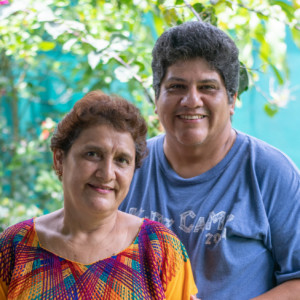 Samuel and Alicia Aguilar
The Aguilar Aldana Family
My name is Hector Samuel Aguilar Aldana. I am from Guatemala City, and my wife, Zoila Alicia Aldana de Aguilar is from Gualán, Zacapa. We have lived in Izabal since 1999 and have always dreamed of creating ministries that would fulfill the educational needs of our community. While we are involved in several mission activities, our main focus is The Computer Typing Academy and REFUGIO DE ODETH.
The Computer Typing Academy began as a dream of opening a non-profit academy to provide critical technological education for children and young people. In the rural, indigenous communities of Guatemala, there is very little opportunity to learn critical work skills. Competency in computer skills opens countless doors for the next generation of students in these impoverished communities, providing opportunities to train for jobs that can help break the poverty cycle once and for all.
In 2012, this dream came to life while serving alongside the team at MISIÓN EL FARO.
Together we began the Computer Typing Academy Project for the communities of CERRO SAN GIL. With ten new computers, donated by the company PERENCO, we hosted teams or church groups in our first classrooms, which were small dormitories at Mision El Faro. Because we did not have a dedicated space, the classrooms and computers had to be set up each Sunday afternoon and disassembled the following Friday each week.
In 2014, again with the help of PERENCO, the EDUCATIONAL CENTER was built. This was a great blessing to our ministry and provided a permanent space for the Computer Typing Academy, a library, and a tutorial center for the children and young people of the surrounding areas.
This project has allowed us to serve more than 2,700 children and young people between the ages of nine and eighteen from eleven different communities and has helped us carry out our goal of educating students for viable careers, sharing the Word of God, and helping students build personal relationships with God as they strengthen their faith.
Alicia has a deep passion for helping women in the community. To that end, she created a sustainable business project in Punta de Palma where she teaches women to make handbags and other artisan crafts in order to provide income for their families. As is always the case, having a permanent location for ministry is important because it gives the ministry the opportunity to grow while providing stability and structure for those participating.
With the help of many generous donors, we built the missionary house, REFUGIO DE ODETH, in Punta de Palma. Our prayer is that this permanent location will allow us to meet the educational, economic, and spiritual needs of the women of Punta de Palma.
The 2020 COVID-19 pandemic required us to shift our ministry focus to meet the growing immediate needs of our community. Our time was spent packing and distributing food bags and essential resources to families who could not work to provide for their families. Consequently, the vision of REFUGIO DE ODETH has yet to be fully realized. It is our dream that 2021 is a year of growth that allows us to establish a firm foundation for this aspect of our ministry so we can better equip and disciple the women of Punta de Palma.
Support Samuel and  Alicia
Off-Line Donations can be mailed to P.O.Box 688  Noblesville,  IN, 46061
"Please write the name of the donation recipient on the memo line of each check"
CONTACT IMN
"Now to him who is able to do immeasurably more than all we ask or imagine,
according to his power that is at work within us"
P.O.Box 688
Noblesville, IN 46061