Hello, I am Jehu Lopez. I am from Santa Catarina Barahona, a town near Antigua, Guatemala. I am the 4th son in my family, and I have two older sisters, one older brother, and two little sisters. I grew up in a family of believers. My parents went through a lot as they were exposed to the hard realities of life in Guatemala. My father grew up without parents, but he always had the support of his grandmother. His grandmother's father was taken away in the civil war, and from that point on life began to look very different, but God led my father and grandmother together. My family has been defined by the phrase "we are warriors". We have been through so many battles, we have never given up, our sword has been prayer, and our shield has been the Lord.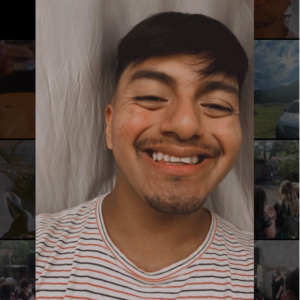 The love of God showed itself to me when I was 13, and it was so much greater than the pain, depression, anguish, and loneliness I had been through with my family. I can't say that my first encounter with God was like a dream, although now, looking back, I think it was precious. At 13 years old I found myself sitting within the four walls of my room where I regularly spent most of my time, but that day after thinking for some time about the purpose of my life and knowing that I didn't yet have one, I was determined; determined to end my "suffering". I remember that I asked God a question; "Is there someone who loves me?" I immediately heard His voice saying, "I love you". I fell to the ground thinking about how much I had hoped to receive those words from someone who loved me. I must say that since that encounter with Jesus my answer to do His will became a yes, and that yes led me to start preparing myself to walk in whatever He called me to. I began to study music in two different schools, the first of which was the most recognized in Guatemala, The National Conservatory, and the second in San Carlos University. I reached a point of no longer being able to afford my studies and my hope began to decline. I asked God, "Have you left me? I am doing this because you told me to." He answered, "I never told you that I have called you just for this". At that moment I left everything I was doing to listen to Him. I could not imagine what my next "yes" was going to be. After a short time I was invited to be part of a coffee shop! In my head I wondered how God was going to use me there.
The coffee shop had a ministry focus. It had a worship room that was used so that people could come and have time alone with God, and little by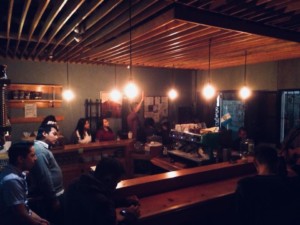 little the Lord's plan started to make sense. Many people came into the coffee shop; people of different nations and cultures. We had nights of worship in that place and it was incredible to see many nations represented, all on fire for God in a small coffee shop. That experience awakened in me a desire to find out more about people doing missions in Guatemala. A friend who serves in a missions organization in Guatemala called Adventures in Missions invited me to be part of one day of missions, and since then, a seed for missions was planted in my heart. We received many missionaries willing to worship with us every Thursday, and out of this time we began a ministry called "Worship Room". These worship nights became more regular, and I am currently serving as a part of that organization. My desire to serve in missions increased, and I began to serve in the ministry every day that I didn't work or could quickly leave the coffee shop after my shift. I was conflicted and pulled away from serving for a season out of fear and pursued my own agenda, but when I asked God what it was that He wanted from me He responded by simply saying, "You're life!"
When you decide to follow God, you have to leave everything behind, but for me, it was hard to leave my job and my stability! However, in obedience I started taking less shifts in the coffee shop to take time to go to the communities to talk about the Gospel and build relationships. I survived on a smaller salary and God was faithful to provide. He never left me alone. I was serving in my local church, Worship Room, and Adventures in Missions as a volunteer, all while working in the coffee shop. In each place I served and worked I had the opportunity to share the Gospel. God gave me the mission to share Him with those around me wherever I went and in whatever I was doing.
When the COVID-19 pandemic began I lost my job and I asked God, "Where are you now?" He led me to another coffee house with Christ-centered mission called River Coffee House. My time working at River Coffee House was a time when I had the opportunity to give God everything. I worked 3-4 shifts a week, and the rest of the time I had in the week I used to serve. Worship Room opened a space to do missions in a town called San Antonio Aguas Calientes called "HOPE", and I began to lead teams of foreigners and local Guatemalans to share about God in the community. I had no idea that although I did not know it at that time in 2021, God had called me to be a missionary. Three years had passed since the Lord asked me to surrender myself to serve Him, and in my heart only burned one mission; that people would know and hear of Him who loved us without deserving it. 
Now, in 2022, I am a full time missionary! I am constistently supporting Worship Room in our team's worship nights and social outreach program, Hope. During my time serving in San Antonio Aguas Calientes I came to know a ministry called Global Year. In Global Year we visit families and do Bible studies with people who have not yet accepted Jesus as their Savior. It is not always easy to open this space for people to hear about God. In Guatemala there are many people in very delicate situations in every community, but there is always a door where God can enter. It was during that time that I understood my call from the Lord to preach the Gospel to the nations. 
When God first put this call on my heart, it was very complicated to come to terms with it. God calling a Chapin (Guatemalan) to the nations was something I had rarely seen. I asked where the Lord wanted me to go, and He guided me to Europe. This confused me in my heart. I told the Lord that Europeans live well and I didn't understand why He didn't send me to a nation with more tangible needs. God spoke to me in that moment and told me again and again: "There is a door in your country where I can enter, there is a door in your country where I can enter, there is a door in your country where I can enter…but what about those countries where there is not a door open for me? Countries where people live well but do not know me?" I came to understand why God was calling me to Europe and again I submitted and gave Him my YES! 
I am now in Spain, in a DTS (discipleship training school) with YWAM (Youth With A Mission) for 5 months. My "YES" to God has taken me to the other side of the world, to another continent, and this is just the beginning. God has to be shown in Spain, India, Morocco, and all over the world, and these are places where God in the middle of this DTS has already opened doors for me to share the Gospel. This is an opportunity for your life to be of help to 2.3 billion people who have not yet known God. Are you willing to let God use your life?
Support Jehu Lopez
Off-Line Donations can be mailed to P.O.Box 688  Noblesville,  IN, 46061
"Please write the name of the donation recipient on the memo line of each check"
CONTACT
"Now to him who is able to do immeasurably more than all we ask or imagine,
according to his power that is at work within us"
P.O.Box 688
Noblesville, IN 46061