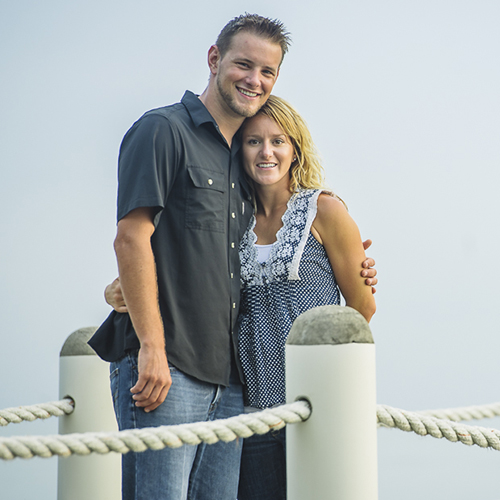 Tommy and Katie Matthews
Tommy and Katie met in Guatemala in May 2010 while he was serving as a missionary and she was on a missions trip. After two years of long distance, Tommy and Katie were married in July of 2012. Though the two shared a heart for international missions, they felt God leading them to stay in Kansas for their first months of marriage. In May 2013 tornadoes struck Oklahoma and Tommy felt God leading him to serve families affected by the disaster with Nazarene Disaster Response. With much prayer the Matthews decided to move to Oklahoma and work as volunteers for the Church of the Nazarene, helping with debris cleanup, reconstruction, remodeling, and team coordination and communication. Tommy and Katie served in Oklahoma from May 2013 until January 2014. The Matthews returned to Guatemala in February 2014 to serve alongside those working at El Faro.
Tommy and Katie help with:
Managing construction projects for local schools, and various construction projects at the National Children's Hospital
Installing playgrounds at local schools
Assisting with social projects such as installation of clean burning stoves and clean water filters
Organizing projects and activities for volunteer teams
Providing basic nursing care and education to people in the community
Weekly hospital visits to the National Children's Hospital
English classes for nurses and other employees at the National Children's Hospital
Serving in other El Faro Ministries (Youth Group, Kid's Club, High Ropes Course, house visits, tutoring center, and English classes)
Tommy was born and raised in Topeka, Kansas and has always had a desire to serve others. Active in his local church as a young man, Tommy began going on mission trips while in high school. In 2007 Tommy traveled to Honduras to help with the construction of a school and church and continued to partner with others until the project's completion. During these trips to Honduras God placed a desire to learn Spanish on Tommy's heart so in 2008 he moved to Ecuador. While there, Tommy was able to work with a missionary couple and help them with teams from the States that were constructing churches and training centers. It was during his time in Ecuador that Tommy felt God calling him to surrender his talents and gifts to be used for the building of God's kingdom overseas. Later in 2008 Tommy was asked by the Church of the Nazarene to serve in Guatemala, where he would coordinate teams and manage construction projects across the country. Tommy served with the Church of the Nazarene from 2008-2012.
Katie is from Folsom, California and has always had a desire to better people's lives through the means of community health. Katie graduated in 2011 from Point Loma Nazarene University with a degree in nursing. After graduating she spent one month in Guatemala City, working in a pediatric clinic and learning from the doctor's and nurses in the community. Over the past two years Katie has gained experience in the hospital setting working in both Kansas and Oklahoma. Although Katie went to youth group in her later years of high school she did not fully understand of surrender to God's love until her first years of college. After her first mission trip in 2008 to Honduras Katie felt God asking her to use the gift of nursing in a less traditional location and placed a desire to serve people internationally.
Support Tommy and Katie
Off-Line Donations can be mailed to P.O.Box 688  Noblesville,  IN, 46061
"Please write the name of the donation recipient on the memo line of each check"
CONTACT IMN
"Now to him who is able to do immeasurably more than all we ask or imagine,
according to his power that is at work within us"
P.O.Box 688
Noblesville, IN 46061