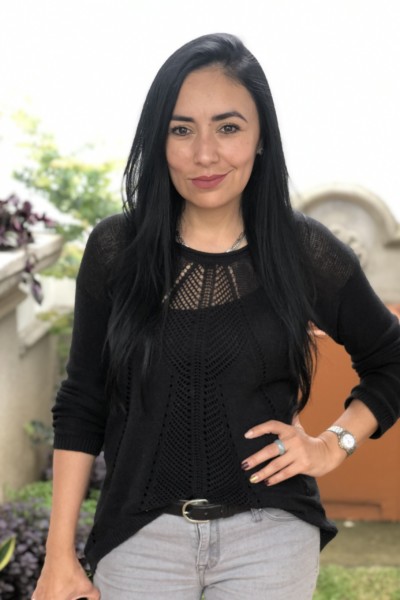 Paola Guerra (Guatemala)
"Our vision is to see nations, kingdoms, and dwellings transformed by the perfect love of Jesus Christ."
My name is Paola Guerra. I am a born and raised Guatemalan, and I want to tell you my story. In 2004 I had a wonderful encounter with GOD that inspired me to a life of ministry. At that time something inside of me held me back from serving in a full capacity, but as time passed, I began to get to know the Holy Spirit and that transformed me completely. In Him I found my true purpose, and I now operate in the gifts and talents He gave me, and I use them for the service of Jesus.
I began my service by working, studying, and through family ministry bringing hope to lives and salvation to different areas in Guatemala under the covering of the Holy Spirit. I also began serving in ministerial discipleship to help churches and surrounding groups become aware of the love of Christ. We brought physical food and most importantly the Word of God. I put in great effort so that the people around me would be passionate and involved in serving and knowing God's true love. Everything we accomplished, we accomplished by teaching the Word of God.
As time went by we had a difficult family situation, and with it came the death of my mother. What she taught me through the testimony of her life was so strong that together with my brothers and my father we rose up and moved forward after her passing. In 2018 I fell into a coma where medically my body was completely unresponsive for 3 days, but my spirit groaned for living. The doctors did not know if I would live, but it was just after that when Ministerios Llegó Tú Luz was born. The Father began by giving me a clear mission, vision, and work objectives for ministry with the aim of helping women and their families no matter their marital status, age, profession, race, or country of origin. God's plan was for me to work with those who do not believe that they may rise up and know that their Redeemer lives, and that through the love of God they may be transformed by the fruits of the Holy Spirit.
We are seeing the fruits of our labors as the women we serve find identity in Christ, experience healing, come out of captivity, and receive direction from God to create family legacies. They now understand that they are important pillars in their homes and that they drive the transformation of their generations.
This transformation is being carried out with a 21-day face-to-face Challenge on WhatsApp and a weekly follow-up of groups on Zoom led by a team of Guatemalan Women of God that I truly love. The passion for seeing lives restored is what drives us to walk and operate in the signs, wonders, and miracles (Romans 15:19). Each leader in the ministry has interceded intentionally for both the people we currently know and those we don't know personally, and we invite them into a relationship with Jesus and to experience what He can do in their lives and their families.
We have reached 8 countries with the aim that each one of them can be a trumpet in the places that they are called to influence and announce the virtues of the One who called us from darkness to His marvelous light. (1 Peter. 2:9-10). We are currently disciplining women from different countries via Zoom to raise up our ministry in other countries, as online platforms are now an effective way to build relationships across distance. We work face-to-face with local women and families each week so that the work of the expansion of King Jesus does not stop. We also support the women we work with to develop their professional skills and give guidance on how they can use their God given abilities to bring Him glory.
Our vision is to see nations, kingdoms, and dwellings transformed by the perfect love of Jesus Christ. We desire to reach thousands of families through ministering to women who are the redemptive creation of life, so that they can bring far-reaching, transformative changes to their generations who are a part of God's eternal covenant. In all corners of countries where women are losing their values because of trauma and misunderstanding of their identity in Christ, we are very happy to serve and minister to so many women and families with diverse needs and ask them to accompany us in this ministry.
As Ministerios Llegó Tu Luz we seek your support and prayers for this journey in missions to continuing powerfully week by week. There are women who are being taught the value of life, how to advance and persevere, and we continue to support them so that they can develop and bring their families forward into a new season of hope with Jesus. We are so grateful for your partnership in prayer and practical support as we can continue to spread the Kingdom through working in the lives of one woman at a time. It is our prayer that through partnership, the Lord, the communities we serve, and you yourselves will be blessed.
Regards,
Paola Guerra
Ministries Your light came. "
Support Paola Guerra
Off-Line Donations can be mailed to P.O.Box 688  Noblesville,  IN, 46061
"Please write the name of the donation recipient on the memo line of each check"
CONTACT
"Now to him who is able to do immeasurably more than all we ask or imagine,
according to his power that is at work within us"
P.O.Box 688
Noblesville, IN 46061