There are some moments in life that humble you to the core and mark you so profoundly that you know you will never be the same. My visit to the community of La Reforma was one of those moments. Several members of the IMN family had traveled up to the highlands of Cobán to shadow a team of engineers from Nashville to learn how we could better partner with engineering and clean water efforts in the region in the future. I thought that the extent of the purpose for which I was there was simply to take notes and think strategically about how IMN could get involved in the community, but God was interested in teaching me much more that day.
As I walked through the community with our resident photographer and board member, Jose Tonito Fares, I saw a woman washing her family's clothes in the river. She had a wooden board, and she wet the clothes in the water and sprinkled them with soap powder before working them back and forth against the board to loosen up the dirt in the fibers of the cloth. I have always been a curious person, and I was intrigued by the process and the opportunity to learn something new. I wanted to engage in a hands-on sort of way, so I turned to Tonito and asked him to translate for me and ask the woman if I could help her wash her clothes. The look on her face when she heard the question was one of pure shock, and I realized that it was probably the first time that someone from outside of her immediate community had offered her help in a simple, everyday sort of way. I took off my shoes, rolled up my pants, and stepped into the river to do what I could to help.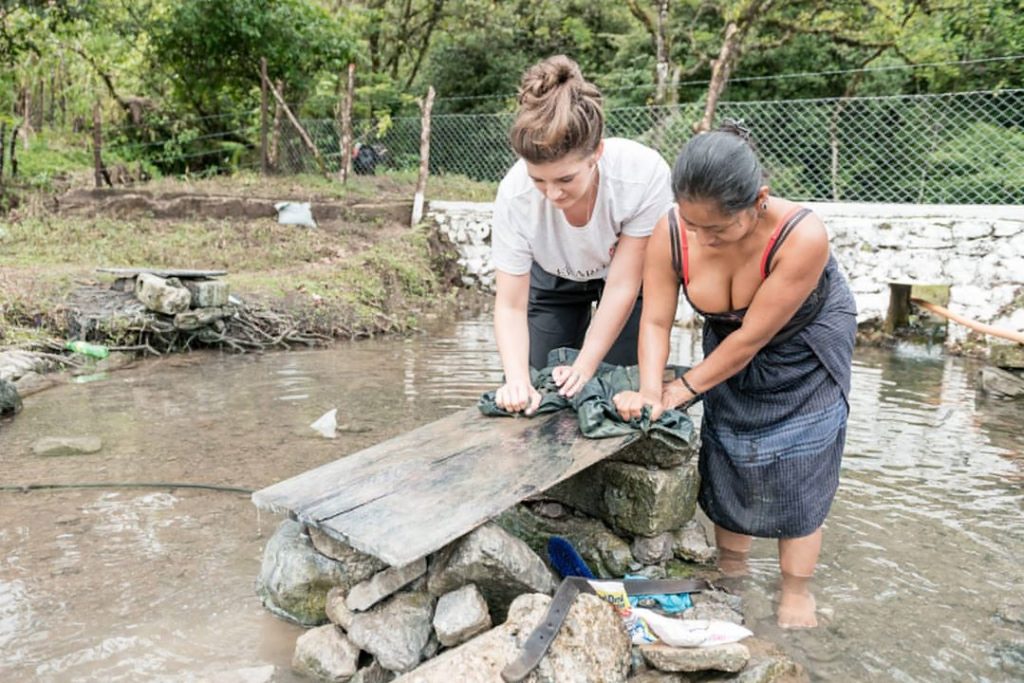 We chatted the best we could with my limited Spanish vocabulary, and it wasn't long before word spread through the community of the gringa washing clothes in the river. Women and children from the village started showing up at the water's edge, laughing and talking. I knew their commentary was about me, but I knew my new friend was happy for me to be there, so I was unfazed. I had gotten to know some of the women from the village that morning, so I did my best to joke back and call them by name so they felt special and known. Eventually, Tonito returned to tell me that we were needed up the mountain at the construction site to see the progress that had been made, and it saddened me to go, but I said my goodbyes and stepped out of the water.
When I sat down to put on my socks, I saw that my feet were completely covered in dirt from my short walk from the water's edge to where I had left my belongings. Before I could fully gather myself to walk back to the water's edge to rinse my feet, one of the women had filled her jar and she began washing my feet. I was dumbstruck, and I could hardly believe what was happening to me. Tears came to my eyes as I realized that a community who didn't really know Jesus yet was showing me love in the same tangible way that Jesus showed love to His disciples in scripture. I was so honored, and so humbled that though I had come to this community to serve and show love, I was being out-loved around every corner, and the love came from a place of a completely genuine, pure heart.
Holding back tears, I asked Tonito if he could translate on my behalf, and we took the opportunity to share the gospel through the story of John 13:1-17, where Jesus washes His disciples feet. This event took place during the Passover meal before Jesus's death and resurrection, after Jesus had realized His time on earth was coming to an end and it was time for Him to return to the Father. Jesus's disciples resisted His efforts to help them wash, feeling unworthy that their beloved teacher and Lord would humble Himself to the point of washing their dirty feet after a day's travel, but Jesus insisted that it was only by His cleansing that the disciples would be truly clean. It was the most beautiful foreshadowing of the full cleansing and atoning the world would receive because of Jesus's sacrifice on the cross, and eventual resurrection. This event at the water's edge was the manifestation of the humble and genuine love Jesus has for all of us, and I thanked the women for embodying that love and showing it to me without reservation.
By the time I made it back to my group I was on the verge of sobs, not because of sadness, but because of the overflow of the heart of God that breaks for His people to know Him. I was humbled to the core, yet so affirmed that I had made it to exactly the place God wanted me to be. I learned the important lesson that we do not only humble ourselves to give and serve, but we humble ourselves to receive. I know without doubt that in serving the nations, I will be blessed with far more than I could ever give, but if that isn't the heart of God and the upside-down function of the Kingdom of Heaven, then I don't know what is. I will forever look at this event as my moment of inauguration onto the mission field, for it is in this moment where I got to experience first hand what it meant to receive the authentic love of God from the poor in Spirit. Never did the words of the beatitudes ring more true, "Blessed are the poor in spirit, for there's will be the kingdom of heaven."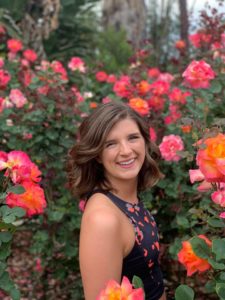 This blog was written by our newest missionary, Lydia Rubenic, who is on the ground in Guatemala this year designing the IMN missional apprenticeship program.
For inquiries and comments please email IMNapprenticeship@gmail.com